1984 Demolicion LP
2002 Demolicion 2002 CD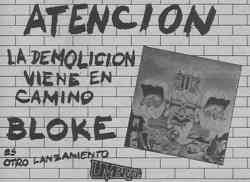 Gegründet 1982 verschleissen die Jungs erst mal jede Menge Sänger, ehe sie mit Billy ihr Album einspielen können. Sie spielen im besten US-Metal Stil (von den alten Sachen ist das meine Lieblingsscheibe). Leider wird es ihnen von den Fans nicht sehr gedankt und grossartige Resonanzen bleiben aus (vielleicht auch wegen dem dämlichen Cover). Die Probleme mit ihren Sängern gehen weiter, denn Billy ist ziemlich verrückt. Es gibt bald Streitigkeiten. Der Sänger sagt kurz vor den Aufnahmen zur zweiten LP, dass er die Band verlassen wird, deshalb lösen sie sich vorher auf. Nach dem Split geht der Sänger kurz zur Band 6L6 und danach mit dem Bassisten (später in RATA BLANCA) in die USA (Demo mit THE CROSS). Der Gitarrist Marcelo Simoni versucht es noch mit anderen Musikstilen und bringt mit MADAM 1990 noch das Hard Rock Album "Decide tu corazon" heraus (nur auf Kassette, und 2 Songs auf einer Promo Single). Ehe auch diese Band in der Versenkung verschwindet spielt noch BLOKE Basser Parodi bei ihnen mit (der Sänger war von APOCALIPSIS, der alten Band des TREN LOCO Bassers Gustavo). Die LP ist sehr selten.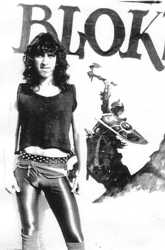 Der Ruf der Band in Argentinien war doch nicht so unbedeutend! Einige beinharte Fans (Fabian vom "Metalica" Fanzine und Pocho Metalica von "Hurling Metal Records") taten sich zusammen und kauften die Rechte, und brachten das Album auf CD heraus! Als Bonus gibt es 2 unveröffentlichte alte Songs dazu. Ein super Instrumentalstück von 1982, und einen Killer Song von 1983 mit dem Sänger Hugo Brandsburg! Aber damit noch nicht genug, wurden 6 Tribute Songs aufgenommen und dazugepackt!! Die meisten Versionen sind ein wenig zahmer, wie zum Beispiel von GARGOLA; MONTREAL; CORSARIO und ASPEED, aber sehr interessant umgesetzt! Nur die 2 Versionen von RENACER und TREN LOCO haben die rauhe Wildheit von BLOKE, und sind auch sehr interessant dargeboten! Dazu gibt es ein neues knalligeres Cover Artwork mit dem selben Motiv, da das Original einfach zu lächerlich wirkte! Hier ist also "Value for money" angesagt!! Ende 2002 fand dann ein Festival mit den Tribute Bands der CD zur Promotion statt, bei dem Marcelo Simoni mit auf die Bühne kam! Dasselbe fand dann sogar nochmal in Santa Fe statt. Eine Reunion ist unmöglich, da Sänger Billy wieder in den USA ist und keinerlei Interesse an BLOKE hat!
---
Founded in 1982 they first changed the singers several times. With Billy they recorded their album in 1984, and this got a real masterpiece! From the 80s records this is the best. It is US style Power Metal. At this time they were not very successful with that (may be also because of the ugly cover of a demolition machine), and their small label did not help them much. In the band were also many problems, and when they got ready to record a second album, singer Billy told them he will leave the band. So they split before they even recorded something more. Billy sung for a while in the band 6L6 and than went to California and made a demo with the band THE CROSS. The guitar player Marcelo Simoni later played with the band MADAM normal Hard Rock and they recorded a album "Decide tu corazon" (only as LP cassette and as 2 track promo single). Before this band disappeared BLOKE bass player Daniel Parodi joined for a while (the singer was from APOCALIPSIS, the old band of TREN LOCO bass player Gustavo). To find this record is really hard, and I have never seen it on a list.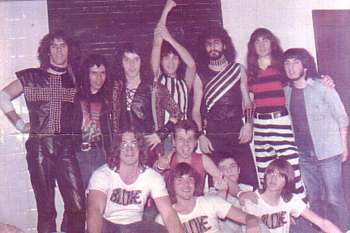 The name of BLOKE seems to have been not forgotten in Argentina! Finally 2 great fans of the band (Fabian from "Metalica" fanzine, and Pocho Metalica from "Hurling Metal records")were sick of the rarity of the LP! They bought the rights of the album, and released it now finally on CD! As Bonus it contains 2 great unreleased old songs. One is an instrumental from 1982, and the other a song with the singer Hugo Brandsburg. But this is not enough, as there were also 6 tribute songs recorded, and put on this CD! This is really value for money!! Most of this versions are a bit tamer than the original, like the ones from GARGOLA; MONTREAL; CORSARIO And ASPEED, but the bands made really interesting versions! Only the 2 tracks from RENACER and TREN LOCO have the rawness and power of BLOKE, and are great interpretations! On top of it, they made a new cover, which has the same motif, but the art has now much more power! The original was really too helarious! At the end of 2002 there was a festival, with the tribute bands for the promotion of this CD, where Marcelo Simoni came on stage for some songs! The same happened again in Santa FE. A real reunion is impossible, as singer Billy lives now again in the US again and has no interess in his old band anymore!
---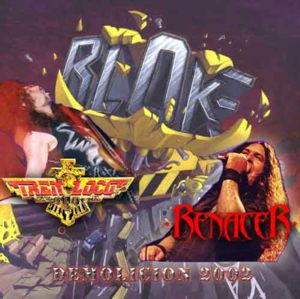 Fundados en 1982, 1ero cambiaron el cantante varias veces. Con Billy grabaron su album en 1984, y esto se convirtió en una verdadera obra de arte! De los discos de los 80 este es el mejor. Es el estilo de Power Metal de Estados Unidos. En ese momento no fueron nuy exitosos con ello (por ahí por la horrible tapa de una máquina demoledora) y su pequeño sello no hizo mucho por ayudarlos. En la banda hubo también muchos problemas y cuando estuvieron listos para grabar el 2do disco, el cantante Billy les dijo que dejaría la banda. Asi que se disolvieron antes grabar algo mas. Billy cantó por un tiempo en la banda 6L6 y luego fue a California e hizo un demo con la banda THE CROSS. El guitarrista Marcelo Simoni, luego, tocó con la banda MADAM un Hard Rock normal y grabaron un disco "Decide tu corazón" (solo como LP cassette y como un single de promo con 2 canciones). Antes de que esta banda desapareciera el bajista de BLOKE Daniel Parodi se unio por un tiempo (el cantante fue de APOCALIPSIS, la vieja banda de TREN LOCO bajista Gustavo). Encontrar este disco es muy difícil y yo nunca lo he visto. El nombre de BLOKE parece no haber sido olvidado en Argentina! Finalmente 2 grandiosos fanáticos de la banda (Fabián del "Metalica zine" y Pocho Metalica de "Hurling Metal Records") estaban hartos de la rareza del LP! Compraron los derechos del album y lo lanzaron finalmente en CD! Como bono contiene 2 grandiosas canciones no lanzadas anteriormente. Una es instrumental de 1982, y la otra una canción con el cantante Hugo Brandsburg. Pero esto no es suficiente, ya que tambien hay 6 canciones tributo grabadas y puestas en el CD! Esto es realmente valorable en dinero!! Muchas de estas versiones son un poquito mas mansas que las originales, como las de GÁRGOLA, MONTREAL, CORSARIO y ASPEED pero las bandas hicieron realmente interesantes versiones! Solo las 2 de RENACER y TREN LOCO tienen la crudeza y el poder de BLOKE y son grandes interpretaciones! El remate es, hicieron una nueva portada, la cual tiene el mismo motivo pero el arte tiene ahora mas poder! La original era realmente muy graciosa! En fin del 2002 hubo un recital tributo, para promocionar el CD, donde guitarrista Marcelo Simoni participe! Lo mismo fue tambien en Santa Fe. Una verdadera reunión es imposible, ya que el cantante Billy ahora vive en Estados Unidos de nuevo y no tiene mas interés en la banda!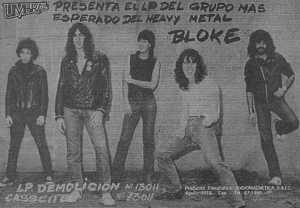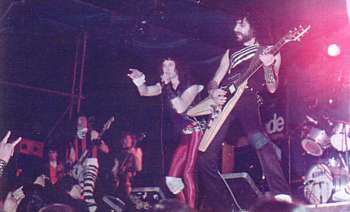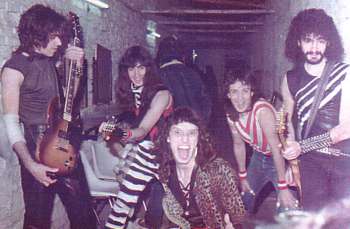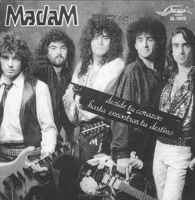 (first time ever, the BLOKE songs in english!! Thanks to Eugenia)

DEMOLITION (Mental)
music: Parodi-Simoni
lyrics: Billy

Hey friend, listen that
There's something far away, that makes tremble
They talk about wars
The wise ones talk
But they don't let you talk
Hey Buenos Aires wake up
That Heavy Metal starts to sound
Don't be afraid and just listen
What in your mind would happen

Demolition
Demolition for they would never take away Rock from us
Demolition
Demolition for they would never take away Rock from us

Bis

Hey friend, listen that
People is trembling and it's not due to scareness
Is because they know that the way they go
They won't reach very far away

Bis


BEFORE THE END (Antes del fin)
music: Parodi-Simoni
lyrics: Parodi

Is time to know what would happen to us
if the anxiety of destroy persists
Nothing will remain
The bright of Metal
Among the ruins that all will cover

Is time to know what would happen to us
When the planet would be a chaos for the living
The world will explote
And in pieces will be blown
There won't be tracks of greedy and evil

The humanity has to be saved
We have to be saved of the total destruction
Tomorrow late will be
With the laments nothing could be change

Is time to create and not to destroy
Is time for men to know how to live
The reasonless war will exterminate us
And there won't be time to start again

Is time to know what would happen to us
When the planet would be a chaos for the living
The world will explote
And in pieces will be blown
There won't be tracks of greedy and evil


INFERNAL PARADISE (Paraiso Infernal)
music: Parodi-Simoni
lyrics: Parodi

Listen well the lection that your elders will give you
But don't follow their examples, there are just a few exceptions
They pretend to make a better race
And they don't remember that today their generation rules

How do they want to live in piece tomorrow
Today the world is a disaster and none will fix it
How to forget what that militar "sir" did
With people with just one leg we can't go forward

But not everything is the same
Neither the people are the same
You will always know how to find someone
Who fill follow you in life
So then you can choose
Your infernal paradise
Trying not to suffer
Trying not to dye
Try not to suffer
Try not to suffer
Try not to dye
Try not to suffer
Try not to dye
Try not to dye...never again


READY TO KILL (Listo a matar)
music: Parodi-Simoni
lyrics: Billy

There is always someone ready to kill
Waiting in the darkness
Searching for blood where there's not
Laughing attacking without thinking

Open your eyes and look back
At your backs
There's someone ready to kill

BIS

Don't ask for none to come and help you
Don't be afraid we are more
Warriors of the light that go in the night
With out fear of the evil allyes

BIS

There is always someone ready to kill
Distrust the one who is next to you
Always someone smiling is ready to kill
Ready ready ready to kill

There is always someone ready to kill
Among the shadows and the treason
The Earth closes all it's power
In the mean who love the wise

BIS


REAL IDENTITY (Identidad real)
music: Parodi-Simoni
lyrics: Parodi

I have been trying to search
A real identity
That it is not just a mask
For wearing in society

I have been trying to be me
The one handles my mind
Because I can't support to depend
Depend on other people

And maybe I trust more in people
A bit more than they really deserve
And when I needed their help
Only once I received fantasies

I feel afraid of not knowing
In whom can I trust
Because I don't want to be
Used anymore


THE FORCE OF METAL (La fuerza del Metal)
music: Parodi-Simoni
lyrics: Billy

In the night, when it sleeps
You come here to search
Go on and go on
Not stop
They won't stop
Is the force of Metal

You don't have to search
You don't have to hide

Believe in the force of Metal
Believe in the force of Metal
Believe in the force of Metal
Believe in the force of Metal

Don't fall so deep that you can't see the light
Carry on and carry on without stopping
Carry on till the end
Don't let yourself get smash
In the night will arrive
And like a thunder will explote
The force of Metal

In the night, when they sleep
You come here to search
Believe in the force of Metal
Believe in the force of Metal
Believe in the force of Metal
Believe in the force of Metal


DON`T WAIT FOR ME (No esperen por mi)
music: Parodi-Simoni

Always lieing to me
Due to your lies I lost my freedom
I will never come again to this place
Anymore
I will never come again to this place...

My mind blown away when i saw
That it was not true
Always tricking
Always lieing
My heart has close again

I would never be the same again
I won't come to this place
Don't wait for me anymore
I don't want to be the same

Don't wait for me...nevermore
Don't wait for me...anymore
I won't come to this place...nevermore

BIS

I won't sell myself again
I don't want to cry again
Because I know you will step on me
Just go away and leave me in peace

Due to your lies I lost my freedom
I don't want to come here again
Don't wait for me anymore
I don't want to be the same

BIS

Don't wait for me anymore
I won't come to this place
I don't want to be the same...ANYMORE!!!


UNDER TERROR`S SIGN (Bajo de signo de terror)
music: Parodi-Simoni
lyrics: Parodi

You were born under repression's sign
And you are afraid to talk
Because you know that any day
The pigs of the Triple A will come

And they will torture you
Till u say what you don't know
And they will aniquilate you
Even when you have got nothing to do

It doesn't matter if you have a family to care of
or if in your belly there's a baby to be born
You were wrong in your way of thinking
And due to that you will dissapear

You won't have a judge, what for?
If they have the power
The dictatorship is the terror
Stop it with the repression
Repression, repression, repression, repression


SOUL OF A JACKAL (Alma de Chakal) music: Parodi-Simoni
lyrics: Parodi-Simoni

In the darkness jackals there are...
...and they will DIE!!!

The countdown on monday you start
Trying to reach the end with air still
Surrounded by the grease that don't let you think
Because they are afraid that you can surpass them

Along the whole day you have to step with dudes
That crowl and crowl without stopping
For 20 dirty coins they let themselves get smashed
(they are making an enterprise besides climbing)

Always the same
And they won't stop
Always the same
Stepping onto the others
Because they have
Soul of a jackal