1990 Reinara La Tempestad LP/CD (Sturm wird herrschen / The storm will reign
1991 Oid Mortales El Grito Sangra(n)do LP/CD (Hört Sterbliche die heiligen/blutigen /Hear mortals the holy/bloody
1997 Vence CD / Double LP 2004 (Erobere! / Conquer!)
1999 Eternos CD / LP 2004(Die Ewigen / Eternals)
2002 Horcas CD
2004 Vive CD (Live)
2005 Demencial CD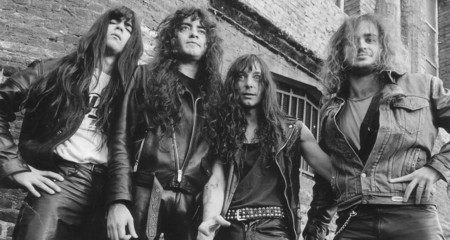 Osvaldo Civile, Gitarrist auf den ersten V8 Scheiben, gründet 1988 diese, meiner Meinung beste Metal Band Argentiniens. Super Power Metal steht auf ihren Fahnen und Live bieten sie für ihre Fans die totale Vollbedienung, und werden von ihnen dafür vergöttert. Aber auch diese Band hat sehr mit Besetzungswechseln zu kämpfen, so geht z.B. der Super-Bassist Walker zu LETHAL und deren Mann kommt zu HORCAS. Durch solche Probleme brauchen sie für die dritte LP 5 Jahre. In der Zwischenzeit war einige Jahre der spätere IMPERIO und RENACER Sänger Christian bei ihnen. Dannach greifen sie sich den Sänger Walter Meza von JERIKO (davor in DECAY, SAMURAI und anderen) und liefern ein weiteres Meisterstück ab. Ihr Promogig geriet deshalb auch zum Triumphzug, und es war eine Freude das zu sehen. Dannach sieht die Zukunft rosig aus, und ein weiteres Album wird eingespielt. Für das Magazin "Epopeya" ist zum Release ein Titelbild geplant. Oscar Civile sucht sich als Motiv aus, mit dem Sensenmann an einem Tisch Karten zu spielen.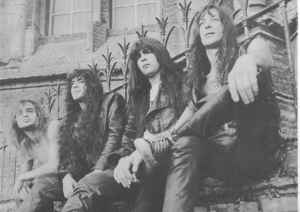 Im April `99 sind diese Titelbilder an allen Kiosken, und die Tageszeitungen melden "Oscar Civile erschossen!". Er wurde tot aufgefunden, und Selbstmord festgestellt. Gerüchte über Mord verstummen bis Heute nicht. Die Band verschiebt erstmal den Release, und überlegt ob sie sich auflösen soll. Sie suchen sich dann aber einen unbekannten Gitarristen, und bringen das Album Ende `99 heraus. Hoffentlich entwickelt sich nun ein haltbares Line-up, das weiter grossartigen Metal abliefert. Sie waren auf dem Weg Argentiniens grösste Metal Band zu werden, haben aber nach dem Tod von Civile, der von den Fans vegöttert wurde, einiges an Boden verloren. Für eine Weile haben sich sogar etliche alte Mitglieder der Band zusammengefunden und spielten unter verschiedenen Namen live (eine davon war EXISTENCIA). Theoretisch hätten sie den anderen Jungs den Namen streitig machen können, da im heutigen Line-up kein original Mitglied mehr dabei ist! Dieses Projekt scheint aber nach einigen Demo Aufnahmen und Konzerten wieder eingeschlafen zu sein! Nach langer Wartezeit erschien 2002 endlich wieder ein neues Album! Hier wird immer noch sehr guter Power Metal geboten, sie haben aber meiner Meinung ein klein wenig nachgelassen! Vor allem hatten ihnen Bands wie RENACER und andere schon den Rang abgelaufen! Das Artwork war auch unter aller Kanone!
Wie man eine weltweit einmalige CD macht zeigen sie dann aber 2004!! Ihr Live Album knallt erstmal schon vom Sound und der Stimmung her (der Enthusiasmus, und das Mitsingen der Fans wird sehr gut eingefangen)! ...aber die Verpackung ist der Hammer!! Ich dachte in dem Land herrscht eine schwere Krise, aber die Jungs klotzen hier mit einem fetten Digipack, ...und 2 "pop out" Figuren!! Kommt echt geil!!! 2005 drehen sie dann voll auf, und das neueste Album knallt ohne Ende. Der Sound ist fast schon brutal, bleibt aber noch im traditionellen Bereich. Das Cover Artwork wirkt auch sehr brutal, und könnte uninformierte an eine Death Metal Band denken lassen, ist aber immer noch besser als die letzten eifallslosen Cover! Die Scheibe kommt in Argentinien sehr gut an, und macht den verlorengegangenen Boden wieder wett! 2005 spielten sie auch einige Gigs in Ecuador.
Die ersten beiden LP's und CD's sind schwerer zu finden. Der Titel der zweiten LP ist total genial. Nur durch hinzufügen von einem Buchstaben ergibt diese erste Zeile der Nationalhymne einen völlig anderen, kritischen Sinn.
Im Jahre 2004 brachte das brasilianische Label "Deis Irae" das 3. und 4. Album als sehr limitierte LPs heraus. "Vence" enhält als Doppel LP noch 3 Live Bonus tracks, die es vorher nur auf einigen Samplern gab!
Sie haben auch endlich eine Homepage:
http://www.horcasoficial.com.ar
---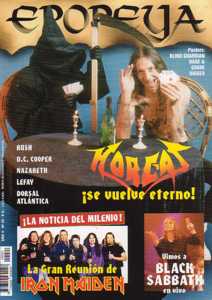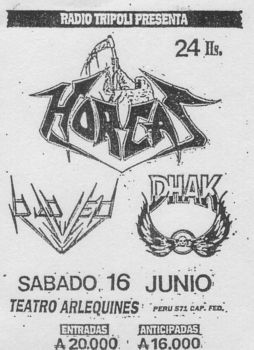 In 1988 Osvaldo Civile, guitar player of the first V8 LPs founded this in my opinion best Metal band in Argentina. Great Power Metal is written on their banner, and their live performance is impressive and their fans worship them. All their albums are classics, even they had many problems and line up changes. After the first album the best bass player of Argentina Walker left towards LETHAL, and the bass and rhythm guitar player of this band came to HORCAS. They played live with any known national or international band, but after the second album the band intern problems grew bigger and trouble with the management followed. For a while the later vocalist of IMPERIO and RENACER Christian Bertoncelli was with them, before they got the JERIKO singer Walter Meza (he was before in the bands DECAY, SAMURAI and others). Because of all this problems it needed 5 years for the third album, but it was a triumphant return and got them higher into the argentine Metal Olympus. All looked very well, and they recorded the 4. album. Shortly after that in April 1999 band leader Oswaldo Civile was found shot dead!! It looked like suicide, but rumors of murder are still around. Macabre was that he choose for a title story in "Epopeya" magazine a photo session with a Grim Reaper. This title picture was on every newsstand when he died. The rest of the band postponed the release of the album till the end of `99, and then decided to continue with the band. The new guitar player has no big name, but it is to hope that they will grow into a steady line up, and continue to release great Metal. They were on the way to get Argentinas biggest Metal band, but after the dead of Civile they lost a lot of ground, as the fans worshipped especially him. In the meantime there was even a band with only ex members of the band, which plaed under different names (one of them was EXISTENCIA)! Theoreticly they had more rights to use the name HORCAS, as in the current line-up is no original member anymore! But after a few demo recordings and live shows, this project disappeared again! Finally at the end of 2002 arrived a new album, which contains again great Power Metal! But they lost a bit of their ability I think! And some new bands like RENACER; PATAN; SELIDOR and some others play now even more exciting Power Metal! The cover artwork is a disgrace!
But in 2004 they show how to make a worldwide unique CD!! This live album is already very powerfull and has a great sound and captures very well the enthusiasm and the fanatic singalong of the fans! ...but the hammer is the packing!! I thought in the country is a big crisis, but this guys fabricated a very special fat digi pack, ....including 2 "pop out" figures!! This is very impressive!!!
In 2005 came the next studio album. This one is extremely powerfull, almost brutal, but still in the traditional Metal spectrum! The cover artwork looks also brutal and uninformed people could think this is a Death Metal band, but this is still better than the "non" artwork of the albums before! The CD sells well in Argentina, and gives the band back their status, as leading Power Metal band in the country! In 2005 they played also some gigs in Ecuador.
The old vinyl of the band is already very hard to find, and even the first 2 CDs getting scarce. The name of the second album is really genius, just by putting one letter more into a word, the line of the national anthem gets a very critical meaning.
In the year 2004 the brazilan label "Deis Irae" released the 3rd. and 4th. album in LP vinyl, in a very limited number. "Vence" is a double LP and contains 3 live bonus tracks, which exist before only at some compilations!
They have now finally a homepage:
http://www.horcasoficial.com.ar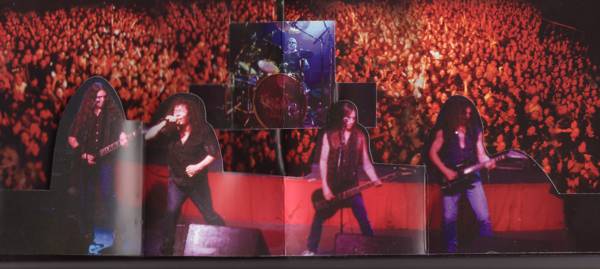 ---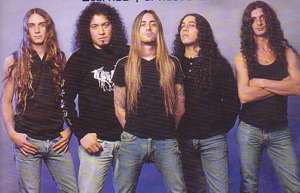 En 1988 Osvaldo Civile guitarrista de los primeros discos de V8, funda la que es para mi la mejor banda de Metal de Argentina. Un gran Power Metal es lo que ofrecen en sus grabaciones y los conciertos son imprecionantes y los fanaticos los adoran. Todos sus discos son clasicos, aunque han tenido bastantes problemas y cambios en los integrantes. Luego del primer disco, el mejor bajista de Argentina, Walker se va con la banda LETHAL, y el guitarrista y bajista de esta banda pasan a formar parte de HORCAS. Tocaron en vivo con todas las bandas nacionales o internacionales, pero luego del segundo disco los problemas internos crecieron y le siguieron problemas con su manejador. Por un tiempo el mas tarde cantante de IMPERIO y RENACER, Chrsitian Bertoncelli, canto con ellos hasta que entro a la banda el cantante de JERIKO, Walter Meza (ello fue antes en DECAY con Horacio Pinasco, SAMURAI y otras). Por estos problemas les tomo 5 años hasta que pudo salir el tercer disco, pero este fue un regreso triunfal el que los llevo hasta el olimpo de Metal de las escena Argentina.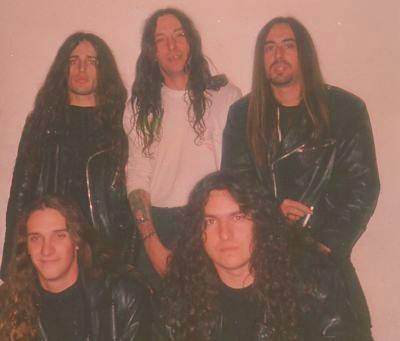 Todo estaba muy bien y grabaron el cuarto disco, poco despues en abril de 1999 el lider de la banda Osvaldo Civile fue encontrado con un disparo en la cabeza, todo indica que fue un suicidio, pero rumores de un asesinato todavia rondan en el ambiente. Macabro fue el que el escogioera para unas fotos de la revista "Epopeya" retratarse con "La Muerte" (Grim Reaper), esta foto estuvo en todos los puestos de periodicos cuando el murio. El resto de la banda pospuso el lanzamiento de la produccion para fines del 99, y luego decidieron seguir con la agrupacion. El nuevo guitarrista no es reconocido, pero se espera que sigan creciendo dentro de este grupo de integrantes y sigan haciendo Metal de la mejor calidad. Estaban en camino de ser la mas grande banda de Argentina pero la muerte de Civile les quito mucho territorio, ya que los fanaticos lo seguian a el especialmente. Por un momento fue una banda que se compone de solo ex-componentes de la banda los que tocan con differente nombres (por exemplo EXISTENCIA)! Teoricamente estos tienen mas derechos sobre el nombre de la banda, ya que de la alineacion actual ninguno es musico original de HORCAS. Pero esto projecto termino! Finalmente en 2002 se fueron lanzar el nuevo album! Se tocan siempre buen Power Metal, pero con un poco menos fuerza y diversidad pienso! Otras nuevas bandas como RENACER; PATAN; SELIDOR y algunas otras tienen ahora un nivel mas alto y varioso!
Pero en 2004 el nuevo album en vivo es increible!! El sonido y los fans son fantastico, ....y el CD es fabricado en un pack muy especial!!
El LP de la banda es bastante dificil de encontrar y hasta los dos primeros en CD estan escasos. El nombre del segundo album es realmente genial, ya que con solo al poner una letra mas a una palabra, el himno nacional cambia criticamente su significado.
----------------------------------------------------------------------------------
Version Espaol en construccion:
In 2005 came the next studio album. This one is extremely powerfull, almost brutal, but still in the traditional Metal spectrum! The cover artwork looks also brutal and uninformed people could think this is a Death Metal band, but this is still better than the "non" artwork of the albums before! The CD sells well in Argentina, and gives the band back their status, as leading Power Metal band in the country! In the year 2004 the brazilan label "Deis Irae" released the 3rd. and 4th. album in LP vinyl, in a very limited number. "Vence" is a double LP and contains 3 live bonus tracks, which exist before only at some compilations!
Finalmente tienen un sitio…una direcciòn:
http://www.horcasoficial.com.ar