1996 No Mas Vendas CD (Nie wieder Fesseln / No more bandages)
1999 Crear O Reventar CD
2001 Escenarios CD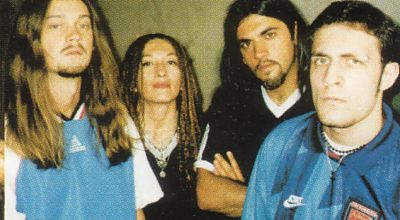 Dies ist eine White Metal Band, die schon seit vielen Jahren aktiv ist. Sie scheinen hauptsächlich in der Christlichen Szene aktiv zu sein. Ihr Stil auf der ersten CD ist Thrash Metal, mit viel progressiven Parts und recht interessant. Sie haben eine wilde Bass Spielerin, was man auf ihrem Video Clip gut sehen kann. Auf dem zweiten album, und der Live CD 2001, sind sie aber sehr modern geworden und spielen schön trendigen 90er Metal!
---
This is a White Metal band, which is active since a long time. They seem to be active mainly in the Christian scene. Their style on the first album is Thrash Metal with many progressive parts and interesting to listen to. They have a wild female bass player, which is shown in their video clip. At the second album and the live CD 2001, they play more modern 90s style!
---
Esta es una banda cristiana que esta activa hace mucho tiempo. Tocan mas en la escena Christiania. Su estilo en el primero album es Thrash Metal con partes progresivas, el cual suena bastante interesante. Tienen una salvaje chica bajista, esta se nota en su video clip. En el segundo album y el CD en vivo 2001, tocan mas moderno en estilo de 90s!