1992 Agonia Infernal CD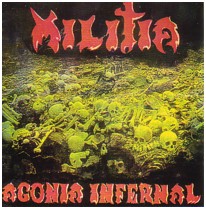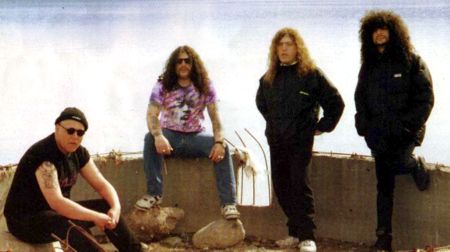 Diese Thrash Band ist aus dem verrufenen Vorort Hurlingham, der eine Hochburg des Metal ist. Sie fanden sich 1987 zusammen, konnten einen Song auf der "Thrash" Compilation veröfentlichen, brauchten aber bis 1992 um ihre CD herauszubringen. Darauf spielen sie guten Thrash Metal, der aber stellenweise etwas holprig ist. Sie waren Live sehr aktiv, tourten bis Bariloche in den Anden, spielten mit fast allen argentinischen Bands und eröffneten für FIGHT und RATOS DE PORAO. Dannach schafften sie nur noch 2 Demos herauszubringen, die 1993 und 1998 erschienen. Die Drummerin Carina Berges (Pelusa genannt) war eine Weile Mitglied, und ist eine der besten weiblichen Drummer weltweit. Sie ging 1998 zu CRUEL ADICCION. Heute spielen Pablo Erzen (Drumms und Vocals) und Eduardo Nogueria (Bass, ex- Mitglied von ABAXIAL) in der Band MOTOR V (zusammen mit dem ex- Drummer von HERMETICA : Tony Scotto).
---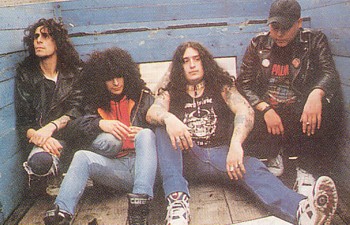 This Thrash band from the suburb of Hurlingham, which is a Metal "Barrio"(neighbourhood), was founded in 1987. They were very active live, and played even in Bariloche in the Andean area! They recorded a track for compilation "Thrash", played with a lot of local bands, and supported the international bands FIGHT and RATOS DE PORAO! But it needed a long time till they could release an album. This was finally done in 1992 as an independent release. They played rally good Thrash, with was sometime a bit simple. After that they could only manage to release some more demos in 1993 and 1998. The very powerful female drummer Carina Berges (called Pelusa) was for a while member of the band, and left the band for CRUEL ADICCION. Today Pablo Erzen (drumms and vocals) and Eduardo Nogueria (bass, ex- member of the first line up of ABAXIAL) play in the band MOTOR V, together with the ex- drummer of HERMETICA : Tony Scotto.
---
Esta banda de Thrash, del suburbio de Hurlingham, que es un barrio de Metal, se fundo en 1987, fueron muy activos, que hasta llegaron a tocar en Bariloche en la region Andina, tocaron con muchos otros grupos Argentinos y tocaron soporte de FIGHT y RATOS DE PORAO! Participaron en el compilado "Thrash" con el tema : "Violencia". Pero necesitaron un largo tiempo hasta que pudieron grabar un album, este se grabo en 1992 indepedientemente. Tocaban un buenisimo Thrash, que a veces era algo simple. Luego solo lograron grabar un par de demos en 1993 y 1998, parece que existen todavia. La potente baterista Carina Breges (llamada Pelusa) fue miembro por un tiempo, y dejo la banda para formar parte de CRUEL ADICCION. En la actualidad : Pablo Erzen (Bateria y voz ) y Eduardo Nogueria (bajo, ex- integrante de la primer formacion de ABAXIAL) tocan en el grupo MOTOR V junto al ex- baterista de HERMETICA : Tony Scotto y participaron en el homenaje a V8 realizado por Ricardo Iorio : No pelea ......