1994 Murcielagos CD
1996 19 CD
1999 Murcielagos 3 CD
2003 En Lo Mas Profundo CD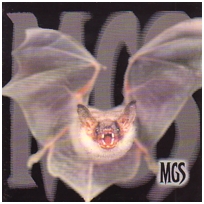 Murcielago heisst Fledermaus, und das Cover mit einem schönen Flattertier drauf, sieht sehr kernig aus. Ihre Musik ist aber mehr Rock`n Roll Hard Rock. Einige Songs haben moderne Einflüsse. In einer Liste fand ich die Info, dass 3 weitere CDs existieren, konnte aber bisher noch nichts weiter herausfinden!
---
Murcielago means bat, and at the cover you see one nice specimen af them. The music of the band is Rock`n Roll Hard Rock. Some songs have more modern influences. The CD I have has the number "3", and in a list I red about 3 more albums, so I guess they should exist, but I could not find out certainly yet!
---
Version espanol en construccion!