2004 The Battle Of The Worlds CD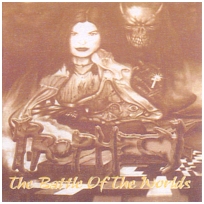 PROPHECY scheint, wie die meisten der Bands mit diesem Namen, eine christliche Band zu sein. Dies würde auch erklären, warum man die CD nicht in normalen CD Läden in Buenos Aires findet. Das ist sehr schade, denn sie spielen guten abwechslungsreichen melodischen Metal. Hier gibt es aber keine Keyboard Orgien, sondern sie werden dezent eingesetzt, und dazu kommen leichte progressive Einflüsse. Leider konnte ich bisher nichts weiter über sie herausfinden. Aussergewöhnlich sind auf jeden Fall auch ihre englischen Lyrics.
---
PROPHECY seems to be a christian band, like almost all bands with this name. This would also explain, why you can not see this CD in the normal music stores in Buenos Aires. This is really a pity, because they play really good and diverse melodic Metal. They are not overusing the keyboard, like some other melodic bands, and have some progressive influences. Sadly I could not find out anything about this interesting band. The use of english lyrics is very unusual too.
---
Version espanol en construccion!