2004 El Ojo Metalico Vol I CD
2004 El Ojo Metalico Vol II CD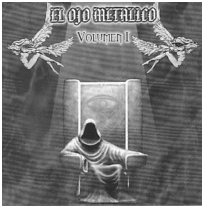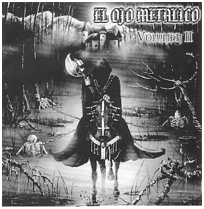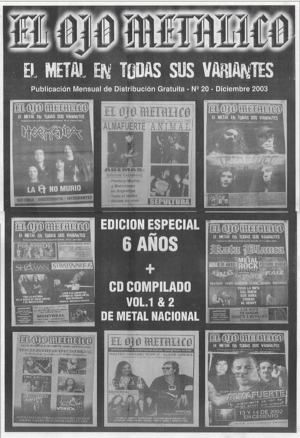 Seit 1997 gibt es die kostenlose Metal Zeitung "El Ojo Metalico". Sie fing dünn, und im Kleinformat an, und wuchs später zu richtigem Zeitungsformat! Der Inhalt war immer auf die lokale Metal Szene konzentriert. Zur Nummer 20, und zum 6 jährigen Jubiläum lagen 2 freie CDs bei, die es in sich haben! Hier wird mehr interessanter Metal abgeliefert, als bei vielen internationalen Samplern für teures Geld, und die Cover sehen auch sehr schön aus! Das Heft enthält ausführliche Biografien aller Bands.
VOL I - enthält bekanntes Material von JASON; TREN LOCO; PIRAMIDE; ATAVICA und CORSARIO NEGRO. Dazu gibt es eine Fülle von unbekannten Underground Acts! Guten Power Metal liefern ab: BAYRON; GERION; EJECUTOR und BELERIAND, und deren Namen sollte man sich als True Metal Fan merken! Mehr melodischen Metal spielen LORD DIVINE; SLOGAN; HANAKEN und HERODEROS. Die Qualität aller Bands ist überraschend gut, und man wird hoffentlich noch von einigen der Bands mehr hören!
VOL II - geht auf selbem Level weiter. Hier sind zwar auch 2 schwächere Nummern, von HATE mit modernem Hüpf Metal und PSICOTICO mit Radio Schmerz Metal, ...aber der Rest geht voll ab! Bekannte Sachen gibt es von MONTREAL; JERIKO; HELKER; LÖRIHEN und ARIEL RANIERI (JASON Gitarrist Solo Album). Von den unbekannten Bands wird guter Power Metal von TRAKSION (echt super) und ARCADIA geboten! Guten melodischen Metal machen MEKALA; AURICA; ANUBLAR CETRO (mehr progressiv) und DR. FAUST (mehr gitarrenorientiert). OTHER SIDE versuchen ein bischen in die Mercyful Fate Richtung zu gehen.
---
Since 1997 exist the free Metal newspaper "El Ojo Metalico". They started very thin, and in small size, but grew into real newspaper format! It always concentrated on the local Metal scene. For the Number 20 and for the six year jubilee they included 2 free CDs, with high class Metal! They deliver more interesting Metal than many international compilations for expensive money, and the cover artwork is great too! The paper includes detailled biographies of the bands.
VOL I - contains known material from JASON; TREN LOCO; PIRAMIDE; ATAVICA and CORSARIO NEGRO. And there are also a lot of unknown underground acts included! Good Power Metal deliver: BAYRON; GERION; EJECUTOR and BELERIAND, and this names should be remembered by any True Metal fan! More melodic Metal play LORD DIVINE; SLOGAN; HANAKEN and HERODEROS. The quality of all theis bands is surprisingly high, and we will hear hopefully more of all this bands in the future!
VOL II - continues almost on the same level. It contains 2 weaker numbers, from HATE with modern "Jump Metal" and PSICOTICO with "Radio pain Metal", ...but the rest kicks ass! Released material deliver MONTREAL; JERIKO; HELKER; LÖRIHEN and ARIEL RANIERI (JASON guitarist solo album). Unknown great Power Metal bands are TRAKSION (really super) and ARCADIA! Good melodic Metal play MEKALA; AURICA; ANUBLAR CETRO (more progressiv) and DR. FAUST (mehr guitar oriented). OTHER SIDE try more in the Mercyful Fate direction.
---
Version espanol en construccion!