2001 A Trade Of Souls, Demo CD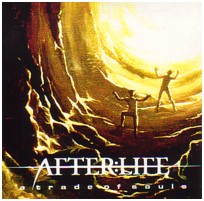 AFTERLIFE sind aus Sao Paulo, und spielen guten traditionellen Metal. Sie wurden 1995 von den Brüdern Fernando (guit.) und Marcelo Eigner (bass) gegründet. Der erste Name war RAPID FIRE und sie spielten nur Cover Songs. Bis 1998 gibt es viele Wechsel, und sie ändern den Namen in REVERIE. Nach weiteren Wechseln kommt dann endgültig der Name AFTER:LIFE, und sie nehmen die 6 Track Demo CD "A trade of souls" auf. Hier wirken sie noch nicht so richtig ausgereift, und de Sänger ist noch etwas danneben, aber es ist ja erst ein Anfang. Die Songs sind jedenfalls schon mal ganz abwechslungsreich. Leider funktioniert die angegebene Homepage nicht mehr, und ich hoffe das ist kein Zeichen, dass es sie schon nicht mehr gibt!?
---
AFTERLIFE are from Sao Paulo, and play good traditional Metal. They were founded in 1995 from the brothers Fernando (guit.) and Marcelo Eigner (bass). The first name was RAPID FIRE and they played only cover songs. Till 1998 were many changes and they took the new name REVERIE. After some more changes the name was altered to AFTER:LIFE, and they recorded the 6 track Demo CD "A trade of souls". Here they appear a bit immature and the singer has a few problems, but this is only a beginning. The songs are already diverse. Sadly the noted homepage is not working anymore, so I hope this is no sign, that the band does not exist anymore!?
---
O AFTERLIFE é de São Paulo e toca o bom e tradicional Metal. Banda fundada pelos irmãos Fernando (g) e Marcelo Eigner (b) em 1995. O primeiro nome da banda foi RAPID FIRE e somente tocavam covers. Até 1998 houveram muitas mudanças e mudaram o nome para REVERIE. Depois de mais algumas mudanças, o nome foi alterado para AFTERLIFE e gravaram um cd demo com 6 faixas: "A trade of souls". Aqui eles aparecem um pouco imaturos e o vocal apresenta alguns problemas, mas este é somente o começo. As músicas já são bem diversificadas. Infelizmente a página na internet não está ativa, espero que este não seja um sinal de que a banda não exista mais.