2001 Invincible War CD
2005 Heretic Signs CD
2005 Violent War CD (Split with VIOLATOR)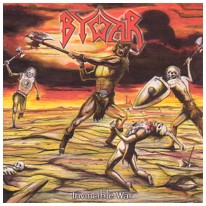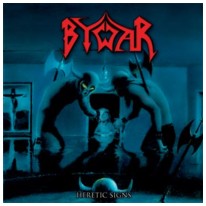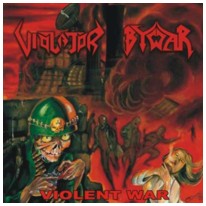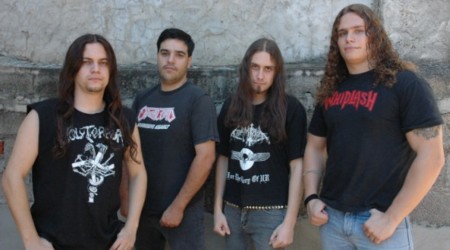 Deutsche Version in Konstruktion!
---
Yeeeaah!! This is the way to play good old style Thrash! After the big wave of Thrash bands in the 80s in Brazil, this music seemed to be extinct in the end of the 90s!! But now there come a few new bands, who love this sound, and BYWAR is definitly one of the best of them! They show all this "New Thrash" bands who copy PANTHERA and other modern shit, how Thrash has to be played!! This CD definitly makes fun, and the guys use the best of all old legends, like DESTRUCTION; SODOM; SLAYER and others, and give it a strong own note! The voice of Adriano Perfetto is also very close to Schmier of DESTRUCTION!
The band was founded in 1997 and released the demo "The Evil's Attack" in the same year. The fist line up was Adriano Perfetto (G,V), Vitor Regep (G), Hélio Patrizzi (B) and Enrico Ozio (D). Together they recorded the great debut, and played all over Brazil and in some other South American cuntries. Their music is also popular in other parts of the world, and they participated at the compilation "Thrash till death" in Germany! Guitarist Vitor left the band, and by Renan "Degolator" Roveran (ex-ALKOHOLIKILLER) joined the band. After some problems with another label, they could finally release the second album in 2005. In the same year the debut was re released with one bonus song (of DESASTER / Germany), as a split with the band VIOLATOR.
Homepage: http://www.bywarthrashers.com
---
Yeeeeaah!!! Este é o modo com que se faz um bom Thrash dos velhos tempos!!! Depois da grande moda de bandas Thrash no anos 80, este estilo parecia extinto no Brasil nos anos 90! No entanto, agora aparecem algumas poucas bandas que adoram este som e o BYWAR é definitivamente a melhor delas! Eles mostram para todas estas novas bandas Thrash que copiam o PANTERA e outras merdas modernas como se deve tocar Thrash! Este CD diverte e os caras usam o melhor das lendas como DESTRUCTION, SODOM, SLAYER e outros, além de personalidade própria! A voz de Adriano Perfetto é bem parecida com a do Schmier do Destruction! Há projetos de lançar um vinil também
A banda surgiu em 1997 e lançou a demo "The Evil's Attack" no mesmo ano. A primeira formação era Adriano Perfetto (G,V), Vitor Regep (G), Hélio Patrizzi (B) e Enrico Ozio (D). Juntos eles gravaram um grande debut e tocaram por todo o Brasil e em alguns países sulamericanos. Eles são conhecidos em outras partes do mundo e até participaram da coletânea alemã "Thrash till death" ! O guitarrista Vitor deicou a banda e foi substituído por Renan "Degolator" Roveran (ex-ALKOHOLIKILLER) . Depois de alguns problemas com outra gravadora eles finalmente lançaram o segundo álbum em 2005. No mesmo ano o primeiro foi relançado com uma música bônus (do DESASTER / Alemanha), como split com a banda VIOLATOR.