1986 Ultima Noite Mini LP/CD
1988 Ninja LP/CD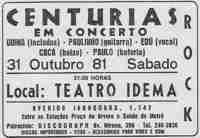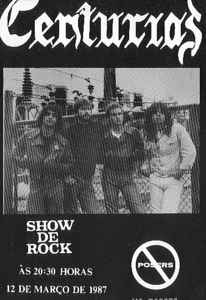 Heavy Metal, pur und rein lieferten diese Jungs als eine der ersten im Lande, aber bei uns waren sie völlig unbekannt. Der Drummer Paulo Thomaz und der Sänger Eduardo Camargo gründeten sie 1980 in Indianopolis einem Stadtteil von Sao Paulo. Zuerst spielten sie im DEEP PURPLE Stil mit Keyboard. Später schmeissen sie dieses raus, und spielen richtigen Metal, was man auf ihrem 83er 9 Track Demo hören kann. So geht es langsam aufwärts. 1984 haben sie 2 Granaten auf dem göttlichen ersten "SP Metal" Sampler, und 1986 erscheint ihre Mini LP, die nur eins kennt, Metal, Metal, Metal! Dannach gibt es einen heftigen Wechsel in der Band, bei dem nur Drummer Paulo übrig bleibt. Von HARPPIA kommen Marcos Patriota (g) und Ricardo Ravache (b). Sänger Cesar Zanelli kommt von SANTUARIO (andere als auf "SP Metal"). Mit neuer Kraft erscheint 1988 ihre volle LP "Ninja", die noch ausgereifter ist und internationalen Spitzenmetal liefert. Leider hielt die Band nicht mehr lange zusammen. Paulo gründet später FIREBOX. Wirklich schade, dass diese talentierte Band nie die Aufmerksamkeit erfahren hat, die sie verdient. Paulo spielte dann noch in der Rock`n Roll Band BARANGH (mit Sängerin), und ist dann bei der Reunion von HARPPIA dabei!
Selbst Leute die sich mit Brasilien auszukennen glauben kennen sie kaum. Eine CD Version soll in nächster Zeit herauskommen. Das Vinyl ist nicht sehr häufig. Die beiden Alben wurden in 2001 auf einer CD wiederveröffentlicht. Paulo speilte dann noch in der
---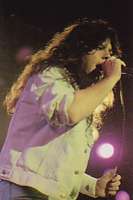 As one of the first, these guys delivered pure and clear Heavy Metal. But they also did not get any recognition in other countries. The drummer, Paulo Thomaz and the singer Eduardo Camargo founded the band 1980 in Indianopolis, a neighbourhood in Sao Paulo. In the beginning they played in DEEP PURPLE style, with keyboards. Later they kicked out the keyboarder and played real Metal. This you could already hear on their 9 track Demo from 1983. It started good for the band, because in 1984 they could place two Metal grenades on the cult compilation "SP Metal". In 1986 followed their first Mini-Album, which knows only one Parole: Metal, Metal, Metal...!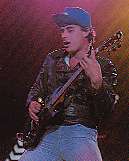 After that they fell apart, because of big problems in the band. Only drummer Paulo stayed and he got the two members from HARPPIA into the band: Marcos Patriota (g) and Ricardo Ravache (b). The new singer is Cesar Zanelli of SANTUARIO (other one than the band on "SP Metal"). With new power they released in 1988 the full album "Ninja". This is even better and delivered international high class Metal. Sadly, this line-up did not keep long together either, which meant the end of CENTURIAS. Paulo founded later FIREBOX. Paulo played later in the Rock`n Roll band BARANGH (with female singer) and joined HARPPIA for the reunion!
It is really sad, that this talented band never got the attention, it deserved. Even people who think they know a lot about Latin American Metal, often don't know them. From the young wave of Metal bands most guys do not know CENTURIAS or others of their Metal ancestors. A CD version is planned, as the vinyl is already hard to find. In 2001 the 2 albums were re-released on one CD.
---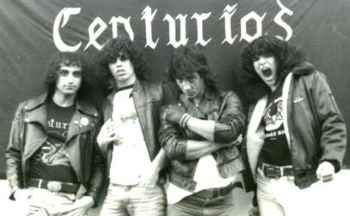 Uma das primeiras bandas, Centurias apresentava um Heavy Metal puro e limpo. Mas nunca receberam qualquer reconhecimento no exterior. O baterista, Paulo Thomaz, e o vocalista, Eduardo Camargo, fundaram a banda em Indianopolis, nas vicinidades de Sao Paulo. No inicio, eles tocavam estilo DEEP PURPLE, com teclados. Mais tarde eles chutaram o tecladista e comecaram a tocar Metal de verdade, o que, ja em 1983, poderia-se ouvir em seu demo de nove musicas. Comecou bem para a banda, uma vez que em 1984, ja conseguiram incluir duas faixas na compilacao cult "SP Metal". Logo apos, eles se separaram por varios problemas na banda.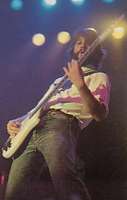 Apenas o baterista Paulo ficou, e ele se juntou com dois integrantes do HARPPIA: Marcos Patriota (g) e Ricardo Ravache (b). O novo cantor seria Cesar Zanelli do SANTUARIO (outra das bandas da "SP Metal"). Com novo fogo em 1988, eles entao lancaram o album "Ninja". Este apresentava um Metal ainda melhor, com qualidade internacional. Infelizmente, essa formacao tambem nao durou, e esse foi o fim do CENTURIAS. Paulo mais tarde fundou FIREBOX. E realmente triste que esse talentosa banda nunca tenha recebido a atencao merecida.. Mesmo gente que conhece a fundo o Metal da America Latina nao os conhece; da recente leva de bandas de Metal, poucos conhecem CENTURIAS ou outras bandas que os precederam. Uma versao em CD esta planejada, uma vez que o vinil e dificil de se encontrar. Em 2001, os dois albums foram relancados em um CD.
Paulo played later in the Rock`n Roll band BARANGH (with female singer) and joined HARPPIA for the reunion!