1993 Temple Of Darkness LP
1994 Agitated World Mini CD
1996 The Tribal Tech CD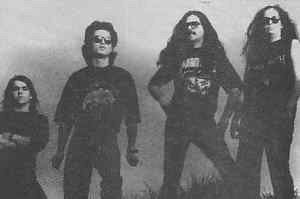 Die Geschwister Luiz (b,voc), und Maria Alvez (key) aus Sao Paulo gründeten Ende der 80er ihre eigene Band. Sie spielen guten Hard Rock, auf dem das Keyboard von Maria ziemlich dominierend ist. Auf ihrer LP mit wunderschönem Fantasycover sind einige richtig gute Nummern, aber auch einige Durchhänger. 1994 bringen sie nur eine 2 Track CD heraus mit einer anderen Version ihres Instrumentals "Shadow", und einem Song, der mich total an die Russen KORROSIA METALLA(!!) erinnerte, also ziemlich heftig ist. Ihren Wandel unterstrichen sie dann total mit der 96er CD die nur noch unter dem Namen CORTINA firmierte. Dass sie das Ferro = Eisen aus dem Namen strichen sagt schon alles aus, denn sie spielen nur noch einen unerträglichen Mix von, total modernem, gequältem elektronischem Zeug. Dannach legen sie die Band auch zu den Akten, und machen was ihnen wohl besser liegt. Ihr Projekt X - ACTION macht "Techno / Trance Music"!!, und hat seit 1998 2 CDs rausgebracht.
Das erste Album kursiert im jahre 2005 auch als CD. Dies scheint aber ein Bootleg zu sein! Wer so ein durchwachsenes Album bootlegt muss echt nicht ganz dicht sein! ....aber einige Metaller werden es schon kaufen, ..... wegen dem schönen Cover!
---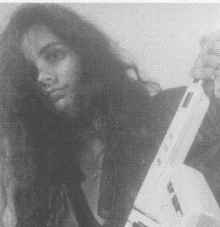 The siblings Luiz (b, v) and Maria Alvez (key) from Sao Paulo founded this band together end of the 80s. They played good Hard Rock, where the keyboards of Maria were very dominating. The LP, with wonderful fantasy cover includes some really good songs, but also some really boring ones. At this time they also released an official home video. The CD release from 1994 contained only another version of their instrumental song "Shadows" and a new song in completely different style, that reminds me a lot of the Russian Thrashers KORROSIA METALLA!! Their further change they show in 1996 when the band name was reduced to CORTINA. That they skipped the "ferro" = iron out of the name, already tells you a lot. But the whole truth is even worse, as this CD is a unbearable mix of total modern, torturing electronical stuff. After that they put this chapter of their life completely away, and do what they like more. The new project X-ACTION makes what they call "Techno / Trance music"!! They released so far 2 CDs.
The first album appeared in 2005 in a CD version. But this seems to be a bootleg! Who made a bootleg from this unexciting album, must be really stupid! I guess they thought: "....some Metalheads will buy it because of the cover art"!?
---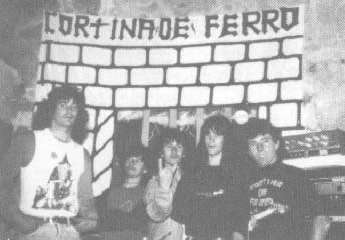 Os irmaos Luiz (b,v) e Maria Alves (teclados) de Sao Paulo fundaram essa banda no fim dos anos oitenta. Tocavam Hard Rock, no qual os teclados de Maria eram muito dominantes. O LP, com uma capa fantastica, inclui umas faixas muito boas, mas tambem umas bem tediosas. Nessa epoca eles tambem lancaram um home video. O lancamento em CD de 1994 apenas inclui uma versao alternativa da instrumental "Shadows" e uma faixa em estilo completamente diferente, que me lembra bastante os thrashers russos do KORROSIA METALLA! Mas tarde, eles reduziram o nome para CORTINA. Que eles tenham retirado o "ferro" do nome, ja diz o bastante. Mas a verdade e que tudo doi ainda mais, uma vez que o CD e uma mistura insuportavel de musica moderna e tortura eletronica. Entao eles apagaram por completo o antigo capitulo e comecaram a fazer o que realmente gostavam. O novo projeto se chama X-ACTION, onde eles tocam o que denominam "techno/trance". Ate entao lancaram dois CDs.
O primeiro álbum apareceu em 2005 na versão CD mas parece que é um cd pirata! Quem fez um pirata de um álbum inexistente deve ser muito estúpido! Eu até adivinho o que eles pensaram: "alguns metalheads comprarão este álbum só pela capa!"