1991 Escape Into Fantasies LP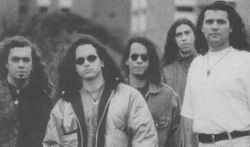 Vier talentierte Jungs aus Natal an der Nordostspitze Brasiliens taten sich 1989 zusammen. Schon im selben Jahr treten sie auf einem grossen Festival mit VODU und anderen auf, und machen 2 Demos. Das Tape "Sorrow" von 1996 enthält sehr progressiven, aber nicht sehr guten Metal. Sie haben viele Besetzungswechsel, sie schaffen es aber 1990 auf den "Whiplash Attack Vol. 1" Sampler zu kommen, und die Musik ist hier schon WElten besser! Nach einem weiteren Wechsel als 3 Mann Band können sie 1991 bei "Rock Brigade" ihre LP herausbringen. Sie spielen darauf einen interessanten Mix aus Metal mit leichten progressiven Einflüssen. Im Jahre 1996 erschien dann noch das Demo "Sorrow", welches aber total anders ist! Hier spielen sie nur noch progressive Rock Musik!
---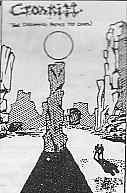 This guys came from Natal in the Northeast corner of Brazil, and found together in 1989. Already in the same year they played on a big festival with VODU and recorded 2 demos. The tape "Sorrow" from 1996 contains very progressive, but not very good Metal. They had many line-up changes, but managed to release a song on the 1990 "Whiplash attack vol I" compilation. Here the music is already much better! After another change, and as a 3 member band their album is finally released in 1991 on the "Rock Brigade" label. They played a interesting mix of Metal with slightly progressive touch. In the year 1996 they released the demo "Sorrow", which is completely different! At this time they played progressive Rock music!
---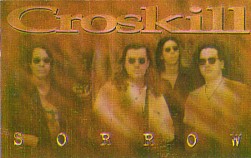 Esse caras vieram de Natal, na extremo nordeste brasileiro. No mesmo ano em que fundaram a banda, em 1989, tocaram com VODU e gravaram duas demos. Tiveram varias mudancas na formacao, mas ainda conseguiram lancar uma musica na compilacao "Whiplash Attack vol. I". Apos mais mudancas, em 1991, a banda voltou como um trio e teve o seu album finalmente lancado pelo selo "Rock Brigade". Tocavam um interessante Metal com toques de progressivo. Em 1996 lanšaram a demo "Sorrow" que é completamente diferente! Tocavam Rock Progressivo!