2000 Screams Of Ice CD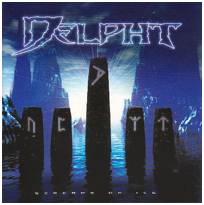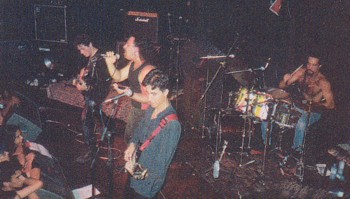 Hier ist wieder eine interessante Band aus der Talentschmiede von Sao Paulo, die seit 1994 zusammen sind. Schon bald können sie 2 Songs auf dem "Falange Rock II" Sampler plazieren. 1997 folgt das Demo "Far beyond". Es gibt viele Wechsel, ehr sie ihr erstes Album aufnehmen. Sie nannten sich nach dem Wikinger Namen für die holländische Stadt Delft!! ...und nach dem holländischen Maler Werner van Delft, der alles in blauen Farben malte! Dehalb ist das Cover ihrer CD wohl auch voller Wikinger Runen, Eis und in starken blauen Farben! Die CD erscheint im Jahre 2000, und enthält guten, sehr abwechslungsreichen Metal! Teils ist es im typischen melodischen Teutonen Stil, und teils drehen sie auf, und erinnern sehr an ICED EARTH, oder gar OVERKILL! Sie sind dann 2001 auch mit einem Song beim "Hamlet" Projekt dabei. Sie scheinen keine Homepage zu haben!?
---
Here is another interesting band from the talent pool of Sao Paulo, which is together since 1994. Soon afterwards they could place 2 songs at the "Falange Rock II" compilation. In 1997 follows the demo "Far beyond". There were several changes in the line up, till the first album could be recorded. They took the band name from the old Viking name for the Dutch town Delft!! ...and from the old Dutch painter Werner van Delft, who used strong blue colours! This seems to be the reason for the very blue colour of the first album, which shows also Viking runes and ice! The CD was released in the year 2000, and contains good and very diverse Metal! Some songs are in the typical melodic Power Metal style and some songs are much faster and remind a lot of ICED EARTH or OVERKILL! They participate in 2001 with a song at the "Hamlet" project! They seem not to have a homepage!?
---
Aqui está outra banda interessante vinda de São Paulo que está junta desde 1994. Logo depois de montada, conseguiram um espaço na coletânea "Falange Rock II", participando com 2 músicas. Em 1997 lançam a demo "Far beyond". Houve várias mudanças de formação até que o primeiro álbum fosse gravado. Eles tiraram o nome da banda do velho nome viking para a cidade holandesa de Delft e do pintor holandês Werner Van Delft que usava fortes cores azuis em seus trabalhos. Esta parece ser a razão pela presença da cor azul na capa do primeiro álbum deles assim como mostra runas vikings e gelo. O CD foi lançado em 2000 e contém um Metal bom e diversificado. Algumas músicas são bem no estilo Power Metal e outras bem rápidas lembrando bastante ICED EARTH e OVERKILL! Eles participaram em 2001 no projeto "Hamlet".