1993 See The Light LP/CD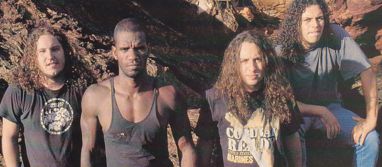 Aus der Hauptstadt Brasilia erfreut uns dieses gute Stück. Als Eigenpressung erscheint ihr Album mit gutem wilden und ungehobelten Metal. Einer der Jungs war vorher in der Band EROS. Leider stirbt der Sänger Feijao (Bohne), worauf die Band sich auflöst.
---
This good piece of plastic was released in the capital Brasilia. The independent production delivered wild and rough pure Metal. One of the guys came from the band EROS. Sadly the singer Feijao (bean) died, and the band split after that.
---
Essa otima banda veio de Brasilia. A producao independente trazia puro e cru Metal. Um dos musicos veio da banda EROS. Infelizmente o vocalista Feijao morreu, e a banda se separou logo apos.