1997 Dust From Misery CD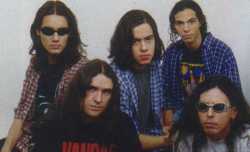 Die Alves Brüder Claudio und Eduardo aus Rio brachten diese schwer verdauliche CD heraus. Das interessante Cover macht neugierig, aber ihr wilder Mix aus Metal, Progressiv und 90s Groove ist dann doch zu viel. Sogar eine indische Sitha kommt öfter zum Einsatz. Drummer Andre Delacroix kam von der Band METALMORPHOSE. Nachdem sie keinerlei Erfolg haben lösen sie sich bald auf. Sänger Alex Machado geht dannach zu IMAGO MORTIS.
---
The Alvares brothers Claudio and Eduardo from Rio made this CD, which is no easy listening. The artful cover makes people interested, but the wild mix of Metal, Progressive and 90s groove is a bit too much! They even use several times an Indian Sitha! Drummer Andre Delacroix came from the band METALMORPHOSE. They never archived anything and split soon. Singer Alex Machado went later to IMAGO MORTIS.
---
Os irmaos Claudio e Eduardo Alvares do Rio gravaram este CD, que nao e facil de se ouvir. A capa bem artistica e bem interessante, mas a mistura de Metal, Progressivo e ritmo dos anos noventa vai um pouco longe demais. Ate mesmo usaram sitara indiana diversas vezes. O baterista André Delacroix veio da banda METAMORPHOSE. Nunca fizeram nada juntos e logo a banda se separou. O cantor Alex Machado foi mais tarde para o IMAGO MORTIS.