1993 Back To Old Road LP/CD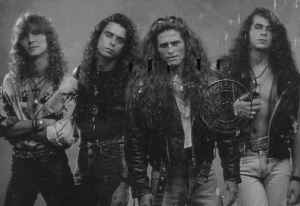 Diese Jungs gehörten dem seltenen und gefährdeten Genre des Poser Hard Rock an (der Slogan "Holocausto de Posers" war sehr verbreitet!). Sie hatten einige gute Nummern, wie hunderte Ami Bands vor ihrer Zeit, und etliche unvermeidliche Balladen. Sie kamen für diese Welle viel zu spät, und wie wir wissen, werden solche Leute vom Leben bestraft. So blieb es bei dieser einen Scheibe.
---
This guys were already, when they started, from an endangered species! Poser Hard Rock was their love, but to have such a pervert taste in Brazil was very dangerous, as slogans like "Holocausto de Posers" were very common!! They had some good songs, like hundreds of US bands before their time, and also some ballads like all of this bands. They came much too late for this wave, and like Gorbatchov said: "Who comes too late gets punished by life!". So their penalty was the extinction after one record!
---
Estes sujeitos ja eram, desde o inicio, especie em extincao. Adoravam Poser Hard Rock, e ter tal gosto pervertido no Brasil era entao bastante perigoso. Slogans como "Holocausto de Posers" eram bem comuns. Tinham algumas musicas boas, como centenas de bandas americanas antes deles, e tambem algumas baladas - assim como tais bandas. Vieram tarde demais para esse estilo de musica e, como disse Gorbatchov: "Aquele que chega tarde demais paga com a vida". Portanto, o preco pago foi a extincao apos o primeiro disco.