1992 The Begin LP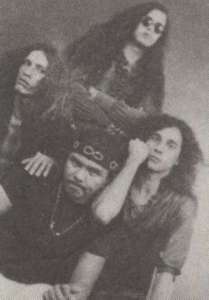 Deutsche Version in Konstruktion!
---
This is definitly one of the most obscure and unique releases in Metal history! The band came from Belem in the north of Brazil. There is a very young band now from Sao Paulo with the same name, which released a CD recently, but which has nothing to do with them, and may be even don`t know of the existance of this older band from Belem! The guys from Belem played Metal like many US bands at this time, partly powerful, partly commercial, but also slightly progressive. It seems, that they have had the money for a good production, and the pressing of the vinyl, but not enough for a cover! So they took just some kind of cover and glued their name and a photocopy of a band picture on the front. They put in an insert, and gave it away like this! May be it was never officially sold, and it was kind of promotion thing only, as I know only one person who has it! But the most obscure thing is the cover they used!! It is from a band called SMERYL, and looks also like from a Metal band! Especially the front cover show some detailles of a nice fantasy artwork (see enlargement), and also the logo on the back looks typical "Metal"! But nobody seems to have this record of SMERYL!!?? So, I ask every die hard collector in the world, if he can help me with informations about both bands, ENDLESS and this even more obscure band SMERYL??
---
Este é definitivamente um dos mais obscuros e únicos lançamentos da história do Metal! A banda vem de Belém. Há uma jovem banda de SP com o mesmo nome que lançou um álbum recentemente, mas que não tem nada a ver com estes aqui e talvez nem saiba da existência desta banda de Belém! Os rapazes de Belém tocavam um Metal como muitas bandas americanas da época, parcialmente pesado, parcialmente comercial, mas discretamente progressiva. Parece que tiveram dinheiro para uma boa produção e prensagem do vinil, mas não o suficiente para a capa! Então pegaram uma capa qualquer com o nome colado e uma fotocópia da banda na frente. Talvez este álbum nunca tenha sido oficialmente vendido e tenha sido usado apenas como promoção, só conheço uma pessoa que tenha uma cópia dele! O mais estranho é a capa que usaram! È de uma banda chamada SMERYL e parece também com uma banda de Metal, mas ninguém parece ter uma cópia deste álbum do SMERYL!!?? Então, peço a todos os fanáticos colecionadores do mundo se alguém pode me ajudar com informações sobre essas bandas, ENDLESS e da mais obscura ainda SMERYL!??