1990 Road To Wisdom LP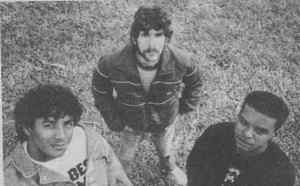 1987 in Itaborai bei Rio taten sich 3 Vorstadtjungs zusammen, um ihren Thrash Helden nachzueifern. Das machten sie auch nicht schlecht. Ihre Scheibe 1990 fällt erstmal durch ein dämliches Cover auf, bietet drinnen aber recht guten Thrash. Dies bleibt aber ihre einzige Glanztat. Einer von den Jungs geht später zu DUNGEON.
---
1987 in Itaboria, close to Rio, 3 guys from their neighborhood found together, to play like their Thrash heroes. The result was not too bad. Their album in 1990 first shows you a stupid cover, but contains fairly good Thrash. But this seems to have been the only output from them. One of the guys later joined DUNGEON.
---
Em Itaborai - perto do Rio - alguns amigos se juntaram para tocar como seus idolos de Thrash, em 1987. O resultado nao foi ruim. O disco de 1990 apresenta primeiro uma capa imbecil, mas contem um Thrash bem legal. Esse parece ter sido o unico lancamento feito por eles. Um dos musicos mais tarde se juntou ao DUNGEON.