1992 Out Of Control LP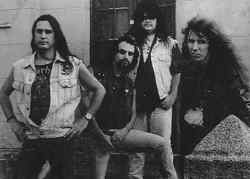 Nach dem Ende von CENTURIAS gründete Drummer Paulo Thomaz mit Bassist Luis Mariutti und Gitarrist und Sänger Michel Perie (ex JAGUAR) 1987 die Band. 1990 nehmen sie ein 5 Track Demo auf. Dannach verlässt Basser Luiz die Band um später mit ANGRA Welterfolge zu feiern. 1992 erscheint ihre LP, und ihr Stil erinnert mehr als nur einmal an die deutschen TYRANT. Vor allem der Sänger klingt total wie "Kermit", aber auch die Musik ist ungefähr die Richtung. Live spielen sie nur in der Umgebung von Sao Paulo und in Argentinien. Schon 1993 kommt das Aus für die Band. Paulo schlug sich dannach lange mit seiner Rockband CHEAP TEQUILA durch, die aber heute auch nicht mehr existiert. Später spielte er in der Rock`n Roll Band BARANGH (mit Sängerin) und war bei der Reunion von HARPPIA dabei!
---
After the end of CENTURIAS drummer Paulo Thomaz founded this band together with bass player Luis Mariatti and guitar player Michel Perie (ex JAGUAR) in 1987. They recorded a 5 track demo in 1990. After that bass player Luis leaves the band to have worldwide success with ANGRA. The album is released in 1992, and the style is close to the German TYRANT. Especially the singer sounds similar to "Kermitt", but also the music goes in this direction of this German band. They played live only in the Sao Paulo area and in Argentina. Already in 1993 is the end of the band. Paulo played after that for a long time with his Rock band CHEAP TEQUILA. Later he played in the Rock`n Roll band BARANGH (with female singer) and joined HARPPIA for the reunion!
---
Apos o fim do CENTURIAS, o baterista Paulo Thomaz, junto com o baixista Luis Mariatti e o guitarrista Michel Perie (ex JAGUAR), fundou essa banda em 1987. Eles gravaram uma demo de 5 faixas em 1990. Apos essa fase, o baixista Luis deixa a banda para fazer sucesso internacional com o ANGRA. O Album foi lancado em 1992, e o estilo e parecido com o da banda alema TYRANT. O vocalista, particularmente, lembra muito "Kermitt", mas a musica toda vai na mesma direcao da banda alema. Tocaram ao vivo em Sao Paulo e tambam na Argentina. O fim da banda veio em 1993. Mais tarde, Paulo tocou por muito tempo na sua banda de Rock CHEAP TEQUILA. Mais tarde ele tocou na banda Rock n' Roll Barangh ( com uma vocalista) e juntou-se ao HARPPIA para o retorno!