1997 Hammer Of The Gods CD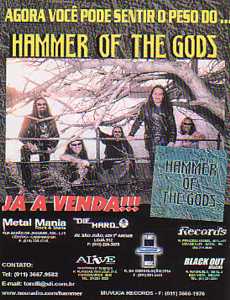 Der Name lässt feinsten Power Metal erwarten. Bei den Jungs aus Sao Paulo gibt es zwar ein paar schöne traditionelle Passagen, aber sie spielen vor allem mit Doom und einigen groovigen Passagen. Auf die Dauer ist es auch noch eintönig. Mit Hammer auf den Kopf vom Metalgott ist also nix. Man hörte ewige Jahre nichts von ihnen, aber 2001 veröffentlichten sie einen Song auf der CD des "Hamlet" Projekts. Sie scheinen also immer noch zu existieren.
---
With this name you may be expect fine Power Metal. This guys use really some traditional parts, but mainly they play doom with some groovy passages. After a while it is really boring. There is no hammer on your head from the Metal gods! There was no news from the band for years, till finally in 2001 a song appeared at the "Hamlet" project CD.
---
Com esse nome, pode-se esperar Power Metal. Eles usam de fato varias passagens tradicionais, mas basicamente tocam Doom com algumas passagens mais ritimicas. Apos um tempo se tornam bem tediosos… nenhuma martelada vinda desses deuses do Metal…