1986 Inox LP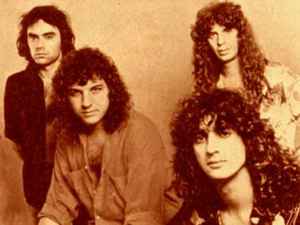 Eine sehr gute Hard Rock Scheibe hinterliess diese Band für die Nachwelt. Bei ihnen waren einige bekannte Namen, wie z. B. Junior von PATRULHA Mitglied. Die Scheibe erschien sogar auf einem Major Label, ist aber nicht einfach zu finden. Sie scheinen nicht lange existiert zu haben und sollen nur ein einziges Mal live aufgetreten sein.
---
A very good Hard Rock album dedicated this band for the world. They had some known members in the band, like Junior of PATRULHA. The record was even released on a major label but still is not easy to find. This shows, that it sure was no financial success for the company and they got dropped. It seems that they did not exist very long, and that they played only one time live at all!
---
Um bom álbum de Hard Rock dedica esta banda ao mundo. Eles já tiveram alguns membros conhecidos na banda, como Junior do PATRULHA. O álbum já foi inclusive lançado por uma gravadora grande, mas não é fácil de encontrá-lo. É claro que o álbum não alcançou os lucros desejados pela gravadora e então eles foram demitidos. Parece que eles não sobreviveram muito tempo depois disso e que só tocaram uma vez ao vivo!