1999 Metal Inferno CD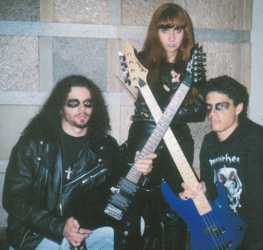 Dies ist eine seltsame Bande aus Brasilien. Wenn man ihre Fotos zuerst sieht, denkt man gleich an die alten BULLDOZER! Sie sind genauso angemalt, und erst auf dem zweiten Blick fällt auf, dass ein Mädel dabei ist: Vanessa "Grinder" an den Drumms! Sie spielen auf dieser Eigenpressung rauhen einfachen Metal. Leider ist die Stimme von Mr. Mutilator nicht die beste, und auch die Kompositionen sind recht holprig.
---
This is a really strange band from Brazil! When you look at the pictures you are reminded of the old BULLDOZER. Only at the second look you see that there is also a girl included: Vanessa "Grinder" the drumm player. They play on their independent CD raw and simple Metal. But the voice of Mr. Mutilator is not the best, and the songs itself are a bit uninspired too.
---
Esta é realmente uma banda muito estranha! Quando você olha para as fotos logo você se lembrará do velho BULLDOZER, somente numa segunda olhada você nota que a banda conta com uma garota, Vanessa "Grinder", baterista. Eles tocam em seu CD independente um Metal cru e simples, mas a voz do Mr. Mutilator não ajuda muito e as músicas em si não são lá muito inspiradas também.