1994 Lynx CD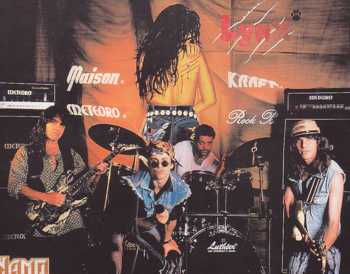 Gitarrist Flavio Gutok von HARPPIA wollte 1994 die Sao Pauloer Poserszene mit einer CD beglücken. Dabei kam ein nettes Hard Rock Scheibchen mit nettem Cover heraus. Sie singen halb englisch und halb portugiesisch. Leider gibt es auch Rap Passagen!
---
Guitar player Flavio Gutok from HARPPIA tried in 1994 to make the Sao Paulo Posers happy. The output was a simple Hard Rock album, with a simple cover. They were singing half in English and half in Portuguese. The worst were some Rap passages.
---
O guitarrista Flavio Gutok do HARPPIA tentou, em 1994, trazer a São Paulo a onda poser. O trabalho é um Hard Rock comum, com uma capa simples. Cantam metade em inglês, metade em português. O pior são algumas passagens Rap.