1993 (Abismo Negro) - Come to die, single
1994 Mandatory Suicide / Abismo Negro Split CD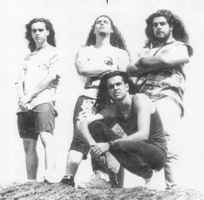 Dies ist eine ziemlich unbekannte Split CD. Sie hat 2 verschiedene Cover zum wechseln (aber beide sind Mist!). MANDATORY SUICIDE kamen von Goiania im Inland in der Nähe der Hauptstadt Brasilia. Ganz im Gegensatz zu ihrem brutalen Namen machten sie guten normalen Metal mit guter melodischer Stimme. Dies hat wohl nicht ausgereicht, denn dannach sah man nur noch ein Demo von ihnen (welches ein paar modernere Einflüsse hat).
ABISMO NEGRO waren aus Sao Paulo, und veröffentlichten 1993 erst eine Single erreichen nicht den Level der ersten Band. Sie waren aus Sao Paulo, und boten nur uninspirierten normalen Metal, und auch von ihnen war es das einzige Lebeszeichen.
---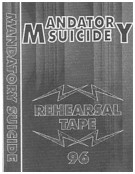 This is an quite unknown split CD. It has 2 different covers to switch (but both look really bad!) MANDATORY SUICIDE came from Goiania in the interior, close to the capital Brasilia. Despite their brutal band name, they played good normal Metal, with a melodic voice. This was may be not enough, as they disappeared after making another demo tape (with a bit more modern influences)!
ABISMO NEGRO were from Sao Paulo and did not have the class of the first band. Their music was uninspired normal Metal, and it was may be good, that this was the only sign of living from them!
---
Este split CD é algo bem desconhecido. Ele tem duas capas, sendo que ambas são muito ruins!. MANDATORY SUICDE vem de Goiânia. Apesar do nome brutal da banda, eles tocam Metal tradicional, com vocais melódicos. A banda provavelmente nunca foi algo muito sério, já que eles desapareceram depois desse split.
ABISMO NEGRO era uma banda paulistana, mas eles não tiveram a classe da primeira banda. A sua música não é nada além de um Metal tradicional patético. A boa notícia é que esse foi o único sinal de existência da banda.