1995 Mosh Mini CD
1997 Private Place LP/CD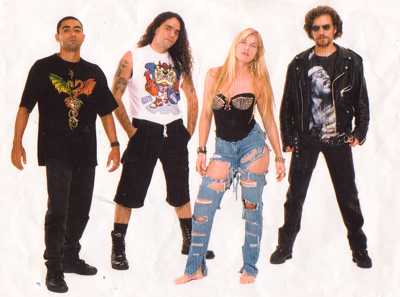 Dies war die kurzzeitige Band einer echten Metal-Göttin. Rosanna Sileci sang erst in der Hard Rock Band SO WHAT, ehe sie den KORZUS Drummer Roberto Sileci heiratete. Gemeinsam gründeten sie MOSH, und spielten powervollen Metal, mit leichten 90er Einflüssen. Ihre erste Mini CD brachten sie in Eigenregie heraus. Das ganze kam 2 Jahre später noch einmal auf einem Label heraus, mit 3 Songs mehr, fand aber auch nicht viel Verbreitung. Leider war diese Zeit nicht gut für solche Musik, und die Plattenfirma auch nicht sehr hilfreich. So wird die Band 1998 zu den Akten gelegt. Heute versucht sie sich als ROXY mit Rock Musik. Dies sind zwei der seltensten CDs im Lande. Im Jahre 2001 tauchen auf einmal LP Bootlegs des Albums auf!! Die Band wusste davon nichts, und ist dementsprechend sauer!
---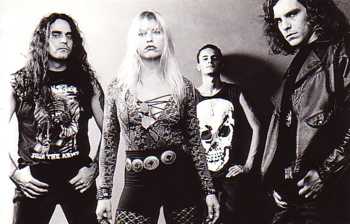 This was a short lived band, from Sao Paulo, fronted by the blond goddess Rosanna. She joined in 1991 the band SO WHAT, and made an demo with them. Their music was average Hard Rock, and they played many live shows. Rosanna got to know the drummer from KORZUS, Roberto Silesi, married him, and left the band to make more powerful music together. 1993 they got the missing musicians together and started playing live in 1994. The bass player was changing several times, the one from the album became Roady for ANGRA. This self titled album came out in 1995 as independent CD with 1000 copies and contains powerful Metal with slightly 90s influences, topped by Rosannas hoarse voice. After this they toured a lot in Brazil and even went for 2 month to the US. There were shows booked, but because of problems with the bass player they had to cancel. 1997 they got a deal with a small company who released the same album again under the name "Private Place", with 3 tracks more. This helped the band not much, as the distribution was very bad (today both versions are hard to find). They made a professional video clip, but this had also no good distribution. Finally the band split in 1998. Today she sings under the name ROXY normal Rock and a CD was planned to be released. But this will may be take a while, as she just gave birth to some cute girl twins! In the year 2001 appeared a bootleg LP release of the album!
---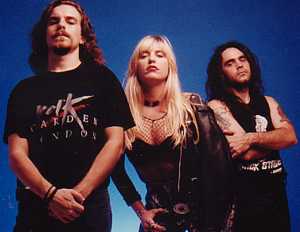 Esta foi uma banda de São Paulo que durou pouco, liderada pela deusa Rosanna. Ela juntou-se à banda SO WHAT em 1991e gravou uma demo com eles. A música era um Hard Rock fraco e tocaram bastante ao vivo. Rosanna então conheceu o baterista do KORZUS, Roberto Silesi, casou-se com ele e deixou a banda para fazer algo mais pesado junto com seu marido. Em 1993 reuniram os músicos restantes e em 1994, começaram a tocar ao vivo. O baixista trocou diversas vezes e o que aparece no álbum tornou-se roadie do ANGRA. O ábum auto-intulado apareceu em 1995, de forma independente, com 1000 cópias prensadas. Contém um Metal poderoso com leves influências dos anos 90. Depois do lançamento, tocaram bastante pelo Brasil e até ficaram 2 meses nos EUA. Tiveram shows agendados, mas por causa de problemas com o baixista foram cancelados. Em 1997 conseguiram um contrato com uma pequena gravadora que relançou o mesmo álbum, mas com o nome de "Private place" com 3 faixas a mais. Fizeram um vídeo clip profissional, mas também não teve boa distribuição. Finalmente a banda se separou em 1998. Hoje a vocalista faz um Rock simples e se chama ROXY e planejava lançar um CD em breve, mas teve que adiar um pouco este projeto, pois acaba de dar à luz. No ano de 2001 apareceu um LP pirata do álbum deles!