1995 Between Nothing And Eternity CD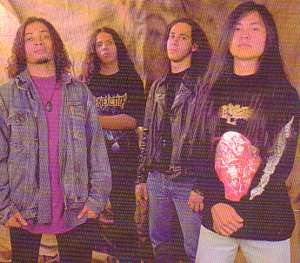 Hier haben wir wohl den letzten Vertreter einer ausgestorbenen Art. Thrash Metal wurde hier zum letzten Mal gesehen. Diese Sao Paulaner machten aber auch besonderen Thrash, der sehr progressiv war. Die Gitarren sind ständig in wildem Gefecht, und machen die tollsten Kapriolen. Die tiefergelegte Stimme wird sicher viele abschrecken. Diese Eigenpressung ist schwer zu finden.
---
Here we have the last species of an extinct race! Thrash Metal was here last seen, before it disappeared into the unknown in Brazil. But this guys from Sao Paulo made a special kind of Thrash, which was very progressive. The guitars are in battle all the time, and make many caprioles. Many people won't like the dark voice of the singer. This independent CD is hard to find.
---
Temos aqui as últimas espécies de uma raça extinta! O Thrash Metal esteve aqui, mas antes desapareceu p/ o desconhecido no Brasil. No entanto, estes caras de São Paulo fazem um tipo especial de Thrash, o qual é bastante avançado. As guitarras estão sempre na batalha e fazem muitos malabarismo. Muitas pessoas não gostam da voz sombria do vocalista. O CD independente é difícil de encontrar.