2000 Here comes the life CD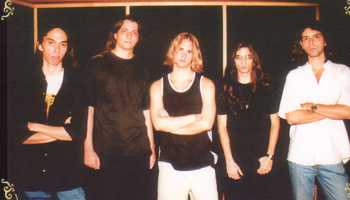 Hier haben wir absolute Liebhaber des Teutonen Sounds. Die Jungs aus Rio müssen HELLOWEEN schon mit der Muttermilch bekommen haben, und "verfeinern" deren Sound noch reichlich mit Keyboards, das kräftig darüber gekleistert wird. Wer diesen ganzen ähnlichen Sound schon nicht mehr hören kann, den tausende Bands spielen, kann hier nur noch schreiend davonrennen! Bei ihnen ist jetzt der Sänger von ENDLESS eingestiegen, die sich aufgelöst haben!
---
This guys from Rio are absolutely lovers of the Teutonic sound! It seems, that they already grew up with the music of HELLOWEEN or one of their old clones. Now they think they can make it even better, with using a lot of keyboards on top of it. A lot of people get already allergic reactions when they listen to one of the thousands of bands who use this sound, and this will be especially the case with this band! The singer of ENDLESS (which is disbanded now) joined the band.
---
Estes rapazes do Rio absolutamente são adoradores do som teutônico. Parece que eles já cresceram com a música do Helloween ou um de seus clones. Agora eles pensam em aprimorar seu estilo utilizando-se de teclados. Muitas pessoas já possuem reações alérgicas quando ouvem uma destas milhares de bandas que fazem este estilo de som, é o caso desta banda!