199? Biological Decimate, 7" single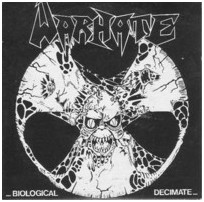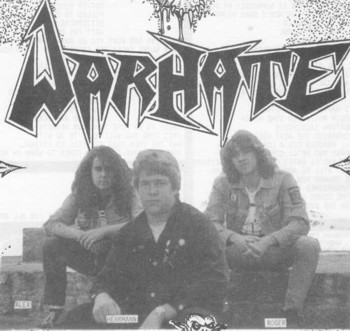 WARHATE waren eine Band aus Santo Andre in der Provinz Sao Paulo, die 1987 gegründet wurde. Sie brachten wohl nur diese eine Single heraus!? Sie spielen darauf wilden Thrash an der Grenze zum Death Metal, ganz im Stil der alten CHAKAL oder anderen Bands dieses Genres in Brasilien! Diese Single ist nicht mehr einfach zu finden!
---
WARHATE were a band from Santo Andre in the province of Sao Paulo, which was founded in 1987. It seems that they released only this single!? They played wilden Thrash at the border to Death Metal, in the style of the old CHAKAL and other old bands from this genre in Brazil! The single is not easy to find today!
---
A banda WARHATE era de Sto. André, São Paulo e foi montada em 1987. Parece que lançaram apenas um single!?! Eles tocavam um Thrash selvagem, quase Death Metal, no estilo do velho CHAKAL e outras bandas brasileiras do mesmo gênero! Este single não é muito fácil de se encontrar hoje em dia!