1988 The First And The Last LP
1990 Mirror My Mirror LP
1992 Blood On The Rocks LP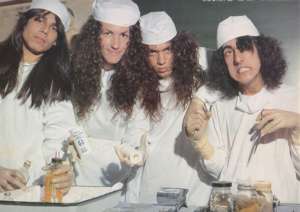 Aus der heimlichen Metal Hauptstadt Brasiliens, Belo Horizonte waren diese 4 Jungs. Sie konnten 3 Scheiben bei "Cogumelo" herausbringen, und fanden sogar bis hierher etwas Verbreitung. Als erstes veröffentlichten sie 2 Songs auf dem "Warfare Noise" Sampler. Die Songs dort sind, wie auch die erste LP, recht holpriger Thrash. Die LP startet mit einem krank humorigen "Medicine Blues". Die zweite kann man jedem, der gepflegten Thrash mag ruhigen Gewissens empfehlen. Zur dritten Scheibe wechselt ein Gitarrist, und der Stil wird etwas extremer und moderner. Wahrscheinlich war das nicht extrem und modern genug für den Markt, denn dannach zerbricht die Band.
---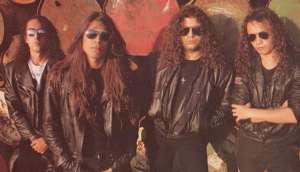 This guys were from the secret Metal capital of Brazil, Belo Horizonte. They could release 3 albums with home label "Cogumelo" records, and found some distribution till Europe and Northamerica. The first release were 2 songs at the "Warfare Noise" compilation. The first LP is quite simple Thrash, and starts with a funny, sick "Medicine Blues". The second album should not be missed in the collection of anybody, who likes really good Thrash. With the third album the guitar player changed, and the style became more extreme. May be this was not extreme enough for the Brazilian market, and they split after this album.
---
Estes rapazes vieram da capital metálica do Brazil, Belho Horizonte. Eles puderam lançar 3 álbuns com a gravadora local "Cogumelo" e tiveram alguma distribuição na Europa e América do Norte. O primeiro lançamento foi 2 músicas na coletânea "Warfare Noise". O primeiro álbum é composto de um Thrash simples e começa com a engraçada e doente "Medice Blues". O segundo, não deveria faltar em nenhuma coleção daqueles que gostam de um Thrash realmente bom. No terceiro álbum o guitarrista mudou e o som se tornou mais extremo, talvez não tenha sido extremo o bastante para o mercado brasileiro e se separaram após este álbum.