1987 En Busca De Valle De Gehenna LP (Auf der Suche nach dem Tal von Gehenna / In search of the valley of Gehenna)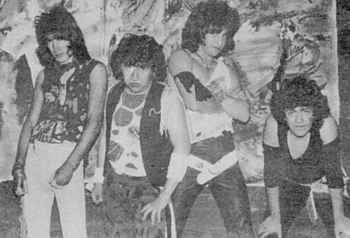 Die Brüder Oliden spielten seit 1979 schon zur Schulzeiten zusammen in einer Rock Band Cover Songs. 1982 geben sie sich den Namen GEHENNA, aber erst 1984 nach einigen Mitgliederwechseln schreiben sie eigene Songs im Metal Stil worauf sie 1985 ein Demo aufnehmen. In der Zeit laufen sie verschärft geschminkt und in tuntigen Klamotten rum. 1986 sind sie auf dem "E. Metalico" Sampler, und bringen dort 1987 ihre LP heraus. Dieses ist ein schönes Stück progressiv angehauchten Metals (produziert vom Drummer der einzigen progressiven Band Mexicos ICONOCLAST). Sie spielen zwar zu der Zeit sehr viel Live, aber sie lösen sich auf bevor sie eine neue LP einspielen. Edgar Oliden spielt später noch in der Band CRUZ DE FUEGO. Die LP kann man eher hier in Deutschland finden, da unser "Metal Merchant" Hegewald allein 500 Stück importiert hat. Einige der Mitglieder spielen wieder zusammen, und sie planen neue Songs aufzunehmen. Auch soll die alte Scheibe auf CD veröffentlicht werden.
---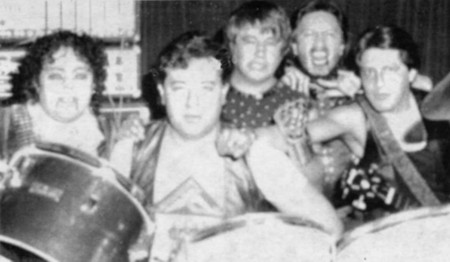 The brothers Oliden played since 1979 together in a school Rock band cover songs. In 1982 they baptized the band into GEHENNA, but only in 1984 after some changes they started to write own songs. In 1985 they recorded a good Metal demo, but at this time they used make-up and queer clothes. They could deliver 2 songs for the "Escuadron Metalico" compilation in 1986, and could record their album one year later. This became a masterpiece of slightly progressive Metal (It was produced by the drummer of the only Mexican Progressive Rock band ICONOCLAST). At this time they played a lot live, but they split before the recording of a second album. Edgar Oliden later played in the band CRUZ DE FUEGO. The record got hard to find now, but you can have luck in Germany, as "Hellion records" imported 500 copys at that time. The guys seem to play together again, and there are plans to record a new album, and re-release the old stuff.
---
Los hermanos Oliden han tocado covers desde 1979. En 1982 bautizaron a la banda con el nombre de GEHENNA pero despues de algunos cambios en 1984 comenzaron a componer sus propias canciones. En 1985 grabaron un buen demo metalero, pero usaban maquillaje y ropa mariconezca . En 1986 contribuyeron con dos canciones para la compilacion "Escuadron Metalico" y un aņo despues grabaron su propio disco. Este se convirtio en una obra maestra de Metal ligeramente progresivo (fue producido por el baterista de la unica banda mexicana de Rock progresiva, llamada ICONOCLAST)! Tocaban muchisimo en vivo pero se separaron antes de grabar su segundo disco. Edgar Oliden despues se integro a la banda CRUZ DE FUEGO. Es dificil encontrar este disco pero posiblemente tengas suerte buscandolo en Alemania, porque la compaņía "Hellion records" fue importar 500 copias. Parece ser que tocan juntos de nuevo y planean grabar un nuevo disco e incluir el material anterior.