2002 Evil Inside, Demo CD
2004 Possessed By Metal, Demo CD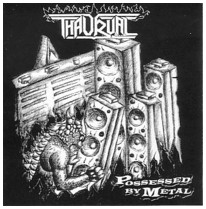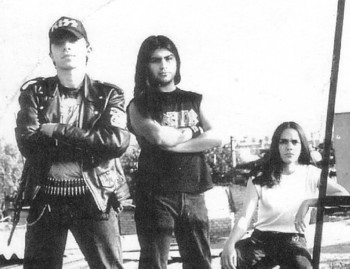 Hier haben wir 3 ganz junge und besessene Thrasheros. Gitarrist und Sänger Diego Magdaleno gründete die Band 2002. Drummer Ganzo folgte 2003. Zusammen nehmen sie im selben Jahr das Demo "Evil inside" auf. 2004 steigt Basser Ricardo Govantes ein, und zusammen bringen sie das Demo "Possessed by Metal" heraus. Deises 6 Track Demo CD geht sehr gut ab. Es ist schneller old school Thrash, mit einer Stimme wie der alte Schmier von Destruction. Die Aufnamequalität ist noch nicht sehr doll, und das Songwriting etwas holprig, aber schon mal ein guter Anfang!
---
This are 3 very young and possessed Thrasheros! Guitarist and singer Diego Magdaleno founded the band in 2002. Drummer Ganzo followed 2003. Together they recorded in the same year the demo "Evil inside". In 2004 joined bass player Ricardo Govantes, and together they released the demo "Possessed by Metal". This 6 track demo CD has a lot of power. It contains fast old school Thrash, with a voice like the old Schmier from Destruction. The recording quality is not very exciting, and the songwriting is not very experienced yet, but it is a good beginning!
---
Version espanol en construccion!